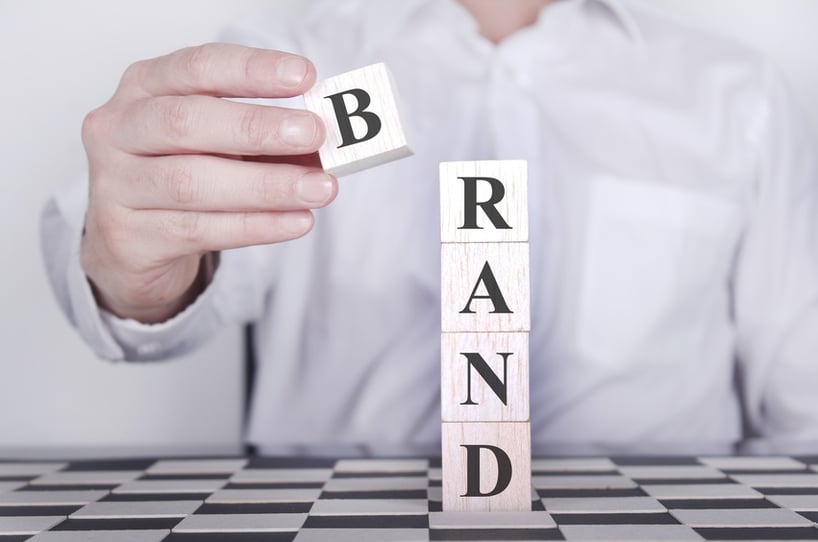 Some of the biggest news in Pittsburgh this December was the release of Penguins Head Coach Mike Johnston. After less than satisfactory results, though not a terrible standing in the NHL Metropolitan Division, Johnston was relieved of the position on Saturday and replaced with Mike Sullivan from Wilkes-Barre/Scranton. Though there is no solid answer of whether social media affected the decision, we can't help but wonder if the fans' outrage over Johnston's performance as Head Coach played a roll.
We live in a time where anyone and everyone can share their opinion on any subject via social media. With large brands like the Pittsburgh Penguins, fans expect their opinions to be heard. One or two social media followers who are upset over something may not have an effect on your online reputation at all, but once a large enough group of fans begin echoing the same sentiment, things can get dicey if not acknowledged. Typically, major brands and companies will release a statement, apologizing for whatever offended their followers, but sometimes they simply make a change and never address the issue verbally.
Regardless of how you appease your fans and followers, it's important that you take reasonable steps to do so.
What social media had to say about Johnston
We can all be in agreement when we say social media sites like Facebook and Twitter can get a little bit out of control. These channels have become an outlet for opinions to be expressed freely, no matter how misguided or extreme those opinions are. And while the opinions of Facebook followers do not affect all major decisions, there are some instance where you can't help but wonder if it did.
The firing of Johnston and hiring of Sullivan came only after hundreds of fans chimed in on Facebook, stating their disapproval of the current coaching staff. These are just a few of the thousands of examples on Facebook during the 18 months Johnston spent with the team.
(Disclaimer: These comments were chosen at random from the Penguins Facebook page. PIC does not agree nor disagree with any of the following statements.)




Though we can't say whether Penguins fans were dwindling in numbers during Johnston's reign as Head Coach, we can assume that if they were, management would have to come up with a plan to win them back. Though the organization has not claimed that social media was a factor in the decision, it did win over some fans immediately after the news was released. Facebook followers were quick to communicate their approval, with some even stating that they felt as though they played a role in the decision.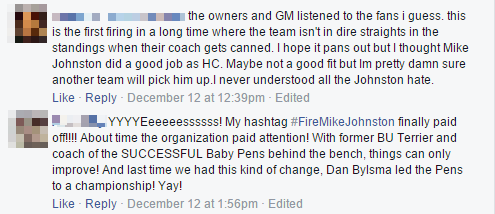 How this decision helped the Penguins brand
While it's too soon to say whether or not the coaching change will lead the Pens to the Stanley Cup, or even a playoff game for that matter, the effect on the fans was immediate. After the loss to the Capitals during Sullivan's first game as head coach, the typically brutal Facebook fans were rather mild when commenting throughout the game. Some even commenting to say that despite the score, the Pens are beginning to make progress.
So, what can other brands learn from the Pittsburgh Penguins?
Proper social media and online reputation management involves communication between the brand and its fans. Unfortunately, many brands fail to make that connection, resulting in declining customer satisfaction. While companies may believe that fans simply want to view images, watch videos, and interact with other fans based on their similar interests, in actuality, fans value brand feedback above all else. According to an article on Social Media today, 2 of the top 5 reasons consumers follow brands on social media is for customer service and to offer feedback on a product or service they purchased. Whether the feedback is positive or negative, consumers expect brands to provide a response to their feedback, whether good or bad.
One of the biggest changes you can make to improve your social reputation is replying to your customers' comments on your page, whether they are positive or negative.
Don't be afraid of negative comments
You can only improve if you know what needs improved.
While responding to positive commenters is a breeze, many brands shy away from responding to negative feedback. If you are hesitant to engage with an unsatisfied fan by replying to their comment to discuss the issue, there are other ways you can make them happy.
If you are only needing to satisfy one or two customers who have expressed their dislike on Facebook, it may be best to reply to their comment expressing your concern for their dissatisfaction. Once you have expressed your concern over their problem, ask them to message you via Facebook to further discuss the issue. For example, your message may say:
"I'm very sorry to hear that you are unsatisfied with our product. We appreciate any and all feedback and would like to further discuss this with you. Could you send us a message with more details?"
With this, the customer feels more at ease that you are concerned about their satisfaction and are more willing to enter a private, civilized discussion with you via private message about their concerns. This helps to prevent further unrest on the subject, and sends the message to your fans that you value their opinion. Which is all anyone on Facebook really wants.
If you are dealing with a larger number of Facebook fans who are unhappy with your brand, you have two options:
Make a public statement regarding the issue
Make a change with your brand
A public statement is best if you unintentionally offend a group of people, or if a large group of fans have complained about the same issue with a product or service. This buys you some time to remedy the problem, and also addresses the concerns of your customers.
Making a change without addressing the issue directly is more along the lines of what the Pittsburgh penguins did – maybe? After angry fans voicing their opinions over Johnston's coaching methods, the Pens management made the decision to relieve him of his responsibilities. Though the Penguins have never and most likely will never come out with a statement on whether or not the opinions of fans on social media effected the decision, it appeared to the fans that their voices were heard.
Whether or not you believe the Penguins decision was a result of social media, it goes to show exactly how important a brand's online reputation can be. Social media comments that go unchecked can result in a huge drop to a company's customer satisfaction ratings that will ultimately hurt their online business. No matter how you address the issue, the perception that followers' opinions are valued should be a top priority in your online reputation management.