HubSpot Training
Improve Behavioral Buy-in & HubSpot Proficiency
HubSpot Training for Businesses
PIC helps businesses support the rapid adoption of the HubSpot Growth Suite with our set of HubSpot Training Programs. Offered both in-person and virtual, our training services tackle the adoption of HubSpot from a strategic, technical, and behavioral perspective. As a HubSpot Platinum Partner, we're proud to offer a suite of HubSpot Services along with the training programs detailed below.
Customized HubSpot Training
Your company and team are unique, and so are your needs. That's why your solution has to be unique too. After assessing your current processes and goals for the future, we will craft a customized plan and training program to get you there.
How can we help you with HubSpot Training?
"We need to train team members on the mechanics of HubSpot and how to leverage them for efficiency."

PIC offers a standardized training program to help your team learn the mechanics of HubSpot.

"We are struggling with adapting to HubSpot's tools and working it into our company's processes and procedures."

For companies that need more in-depth training, we can assess your current processes and build a custom training program that unlocks the full power of HubSpot for your business.
Training from Pittsburgh's First HubSpot Platinum Partner
Implementing any new system can be a challenge. When investing in HubSpot's Growth Suite, it is important to set yourself up for success, and this success ultimately relies on total team buy-in.

Our HubSpot training programs are tailored to both your team and company's needs as we aim to achieve specific goals and garner user buy-in across the organization.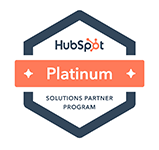 Pittsburgh HubSpot Training
Are you from the Pittsburgh Area? We also offer onsite training for your sales and marketing team. Contact us to inquire about building a custom workshop to address the specific needs of your team.