Social Media Marketing Agency
Reach your audience. Position your brand. Connect with your customers.
Why you should invest in Social Media
With billions of active social media accounts in the United States, social media commands more and more consumer attention every year. Facebook, Instagram, LinkedIn, and more are now primary channels for users to talk, share, research, and shop online. And with so many eyes on these channels, marketing and advertising budgets have shifted to get brands in front of their target audiences as they scroll through their timelines. But with so many platforms, how do you know what strategies will work best for your business?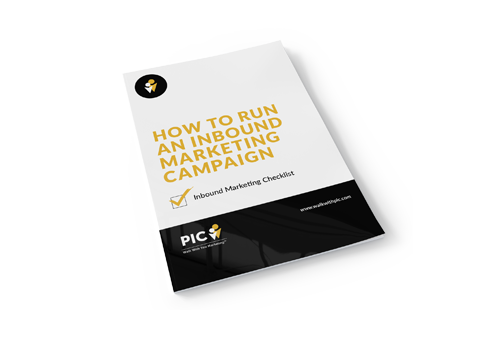 Free Inbound Marketing Checklist
Before you press "Go" on your next marketing campaign, use our Inbound Marketing Checklist to ensure the project allows for measurable results and a connected experience for potential customers.
Results-Driven Social Media Strategies
Social media is still a relatively new medium in the marketing and advertising realms, and as a result, can be a drain on your marketing budget if you don't set the proper goals from the start. These goals serve as the destination points when developing a comprehensive, focused social media strategy.

With social media changing every day, it's hard for small and medium-sized businesses to keep up with and leverage all options available to them. At PIC, our team stays up-to-date with the latest tools and trends to help our clients take the guesswork out of social media marketing. Our experience in audience development, ad creative, and messaging elevates haphazard social media activities to successful results-driven campaigns.

PIC specializes in helping our clients…
Identify goals and opportunities for social media revenue streams
Plan and implement audience development and targeting strategies
Create and launch results-driven ad campaigns
Platforms We Work With
PIC will work with you to establish your social media goals and carve out a target demographic. This helps us determine which social media platforms to leverage with our campaigns. In addition to the social media giants, we work with emerging platforms like TikTok, Nextdoor, and Snapchat.
Core Components of Social Media Advertising
With the help of the PIC team, your business can begin building a versatile social media strategy that leverages the best-fit channels and components on platforms like Facebook, Instagram, LinkedIn, and more. Our campaign objectives are customized to reach audiences at each stage of the buyer's journey, and utilize multiple audiences when targeting potential or existing customers.