A Leading SEO Company
SEO makes your audience come to you. Let us show you how.
Why you should invest in SEO
When website traffic is stagnant or declining, and visitors aren't relevant or converting, poor SEO is often the culprit. SEO allows your business's website, products, and services to show up in search result pages (SERPs) when your customers and clients are searching for them. Without a properly optimized website, you won't receive the organic (i.e. free) search traffic from Google that will ultimately convert into customers and clients.

With comprehensive SEO services from PIC, your website benefits via improved visibility across all major search engines. These SEO services generate:
Increased organic traffic (i.e. free traffic)
A higher-quality audience
A result in more conversions and loyal customers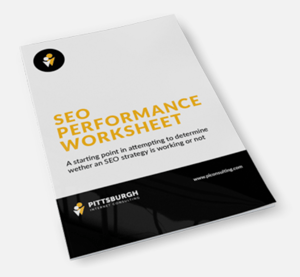 Download SEO Performance Worksheet
Is your current SEO strategy performing as it should? Our simple worksheet will help you analyze the performance and quality of your content, keywords, and organic traffic.
Components of Search Engine Optimization
As a leading SEO company, we work closely with each client to establish a holistic SEO strategy that matches the needs of your company. This strategy is built to improve on-site and off-site SEO components making your site more attractive to search engines.