Hobby Car Corvettes, a worldwide C3 Corvette dealer, as been a long-time client of Pittsburgh Internet Consulting. In 2014, PIC teamed up with RJ from Hobby Car Corvettes to create a premium content piece designed to give visitors a comprehensive guide to corvette buying while simultaneously turning them into leads.
Company: Hobby Car Corvettes

Problem: They needed an attractive, informative lead generator.

Solution: Create a buyer's guide

Improvements: Lead generation

Tools Used: Adobe Creative Suite
Problem: Create an Informative Buyer's Guide to Promote Products
The premium piece needed to accomplish two specific things: One was giving users a relevant piece of content enticing enough for them to exchange a small bit of contact information for the download, and the other goal was to look the part. Classic car owners pride themselves on not only the performance of their cars, but their appearance as well, and we used that same mindset when creating the buyer's guide.
PIC Services: Design an Aesthetically-Pleasing Guide
Pittsburgh Internet Consulting created a guide for Hobby Car Corvettes that leverages RJ's expertise of classic Corvettes and extends it to the reader. It's a worthwhile document for anyone who is thinking about purchasing one of these cars. As previously mentioned, aesthetics were incredibly important, so we used large, high-definition photos to not only captivate readers but also paint a portrait of the Hobby Car Corvettes facility and its massive, well-kept inventory.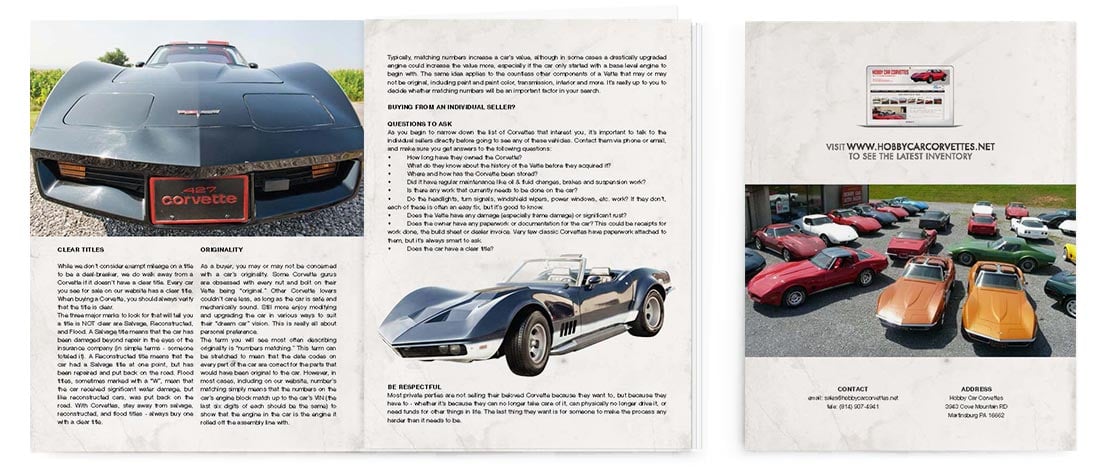 Solution: Adding Images to Improve the Buyer's Guide
Throughout the guide, PIC used iconography to illustrate the points made with the content. The images played a vital part in communicating information as well as helping to break up lengthy paragraphs and blocks of text into a more readable format.

Results: Bringing the Buying Process to the Customer
Most importantly, Pittsburgh Internet Consulting and Hobby Car Corvettes brought the buying process to the consumer in this guide. With a variety of images and their life-like quality, the website visitor could feel like they were walking around the Hobby Car Corvettes lot rather than simply reading an article. If you would like to see the full guide for yourself, head on over to the Hobby Car Corvettes site to get your download.