Rock N Rescue provides gear and equipment designed for a variety of industries and applications, such as confined space entry, fall protection, window cleaning, police and military tactical teams, water rescue, fire departments, emergency medical services, and many more.
Company: Rock N Rescue
Problem: Needed more precise online product inventory management
Solution: Integrate WooCommerce to SOS Inventory
Improvements: Accurate stock information; seamlessly updated stock, SKUs, prices, and more
Tools Used: WordPress, WooCommerce, SOS Inventory
Problem: Rock N Rescue Lacked Efficient Online Inventory Management
Rock N Rescue used WordPress and WooCommerce to maintain their online presence and complete their ecommerce needs. However, they were running into problems managing their online inventory. The inventory available to them on the backend of their business was not matching the stock found in WooCommerce.
PIC Services: Integrating WooCommerce SOS Inventory Management
PIC worked with Rock N Rescue to install WooCommerce SOS Inventory Management. Using the client's WooCommerce API, PIC worked with their design and development team to sync the accounts, creating a product database in the SOS Inventory plug-in. The database is set to sync all SOS changes to WooCommerce, and vice versa, so that any time a product is sold online, it immediately updates the number of items in stock.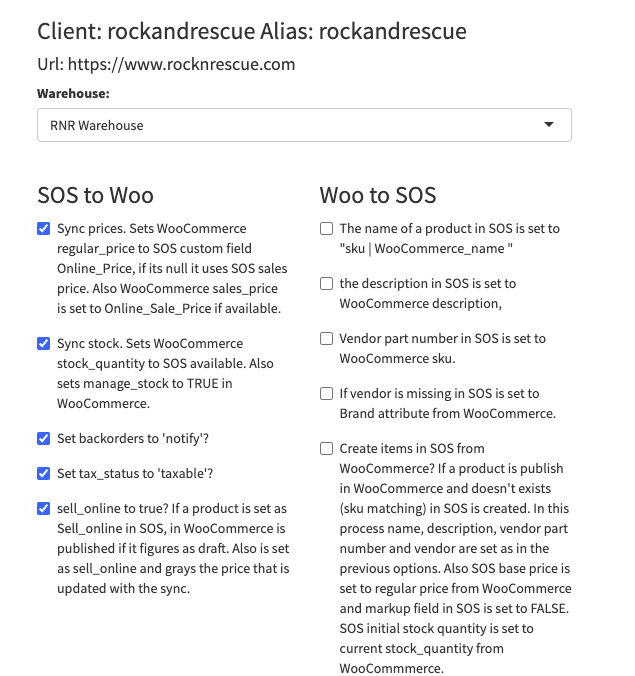 Solution: WooSOS Integration Gives Client the Freedom to Update Their Inventory
Rock N Rescue also used the SKU and price editor on the back end of WooSOS. In these tabs, the client can update variables such as the product ID, SKU, sales price, online sales price, and whether or not the product should sync to WooCommerce. This allows seamless changes to show up online and update immediately on the front and back ends. SOS also has an app that is iOS compatible.

Results: Rock N Rescue No Longer Has Real-Time Inventory Issues
With the help of PIC, Rock N Rescue now has a more manageable and instant way to match their online sales to the actual inventory that they have in stock. WooSOS makes it much easier to promote, remove, or create online sales based on availability.