There's a seemingly endless number of website conversion metrics you could be tracking, which leaves many marketers wondering, "Do I really need to pay attention to all of these?"
We've narrowed it down to the five most important website conversion metrics marketers should be tracking. If you measure and optimize for these website metrics, you should see an improvement in traffic quality and conversions.
1. Unique Visits by Traffic Source
Increasing traffic is always nice, but it shouldn't be your main focus when trying to improve website conversion rates. Traffic quality is much more important than general website traffic. The more visitors you help achieve their goal – whatever that goal may be – the better you can expect your conversion rates to be.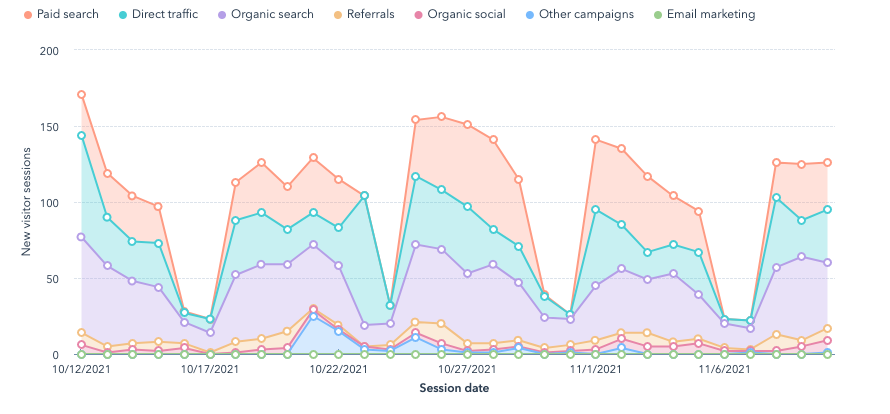 So, it's best to start by recognizing how visitors are finding your website. There are four traffic sources to keep an eye on if you think you may have traffic problems:
Search Visitors: Anyone who finds your website through a search engine such as Google is considered a search visitor.
Paid Visitors: Anyone who visits your website after clicking on an ad you're running falls into this category.
Social Visitors: These visitors are similar to referral visitors, but they came directly from a social network such as Instagram or Twitter.
Referral Visitors: These visitors get to your website via another source, such as a different website.
Keep an eye on the trend lines of your traffic sources. You obviously want to see them increasing, but if you see a sudden change in your traffic trends, it is worth learning what caused it. If it was a bad reversal, you can correct it. If it is a good traffic spike, you want to know how to replicate it.

You should strive to attract traffic from a variety of sources; relying too heavily on one source can be risky. Also, if a particular type of visitor isn't converting on your website, that should indicate where you need to improve. If organic search users aren't converting, for example, that means there's a disconnect with your content. Your website isn't giving them the answers to their questions or there is a mismatch in expectations.


2. Bounce Rate

If you're unfamiliar, bounce rate is the rate at which visitors land on your website and quickly click away without taking any action. If visitors aren't spending time on your website or interacting with it in any way, that usually means they won't convert.

If your website has a high bounce rate, it could mean several things. Most commonly, it means your traffic sources are irrelevant or subpar. It could also mean that your content or landing pages aren't properly optimized for conversion.





The more relevant your traffic is and the more optimized your content is, the higher your conversion rates should be.

So, what is a good bounce rate? That depends. A higher bounce rate isn't necessarily a bad thing, and different industries or businesses may have different benchmarks. However, a bounce rate of 56% to 70% is generally considered high. Average is between 41% and 55%, while a great bounce rate is somewhere between 26% and 40%.

Something to note, typically you will have blog posts with higher bounce rates than web pages. This tends to be due to the user getting the information they are seeking right there on the post they want to read and then leaving. To improve the bounce rate on the blog, make sure you have good calls to action (CTAs) leading to strong, relevant content offers on each blog post.


3. Session Duration

While this is related to bounce rate, session duration is a worthwhile website metric to pay attention to, especially if you expect visitors to hit multiple pages before converting. How long visitors actually stay on your website is a real measure of the quality of your content.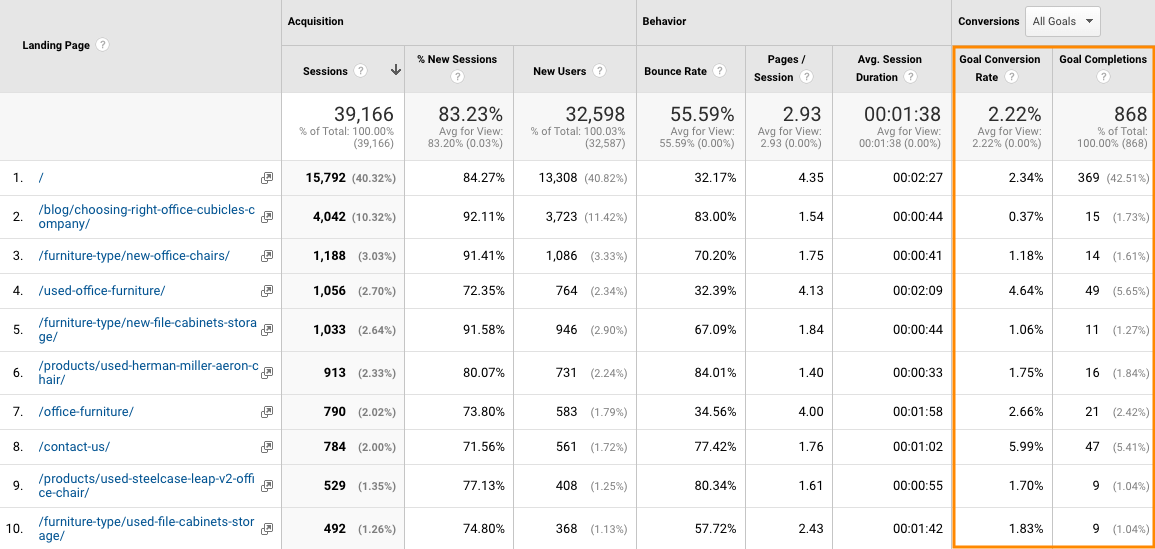 If you want to see how visitors are engaging with individual pages or posts on your website, you can use Google Analytics to review the performance of specific URLs and discover why your traffic isn't converting. In doing so, you will be able to modify pages that are underperforming as understand why other pages might be performing well.

Again, its always a good idea to keep your eye on the trends here. Compare time on page of the higher performing pages to the rest of your pages and see how the session times differ. Investigate any sudden changes in trends.


4. Conversion Rates
This might be obvious, but if you're only looking at total conversions and not conversion rates, you're not looking closely enough. The way first-time visitors interact with your website may be different from how returning visitors interact with it, but both are quite valuable metrics to track.
For first-time visitors, pay attention to how they get to your website and what they appear to be interested in once they're there. You only have a few seconds to grab a visitor's attention, so use this conversion rate to assess your performance and determine how you can improve the average user's experience. Make sure to track sessions from new visitors in Google Analytics over time to see if the content on your website is resonating with them.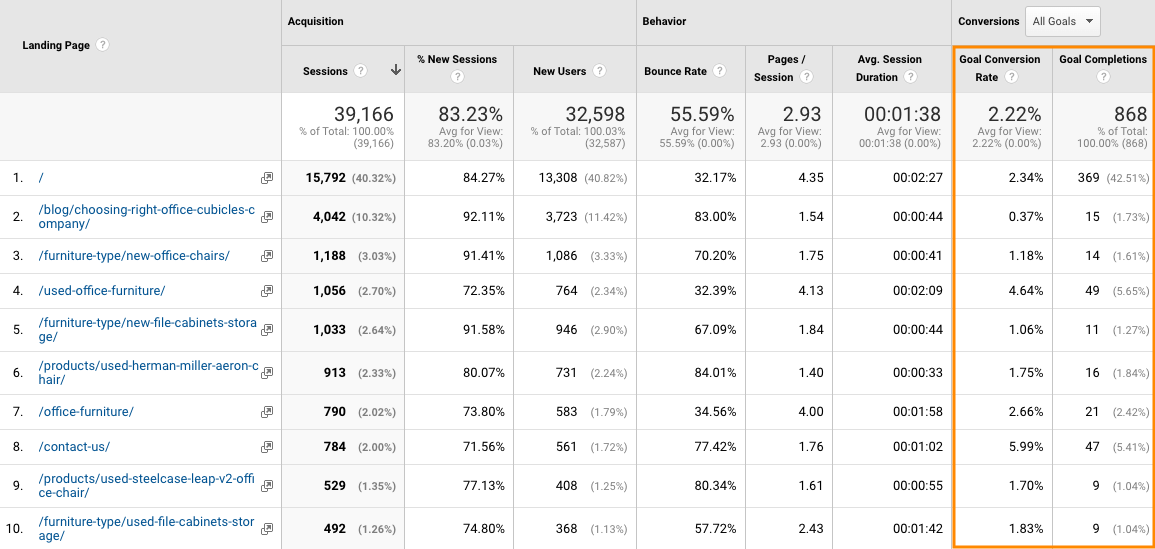 Additionally, pay attention to your landing pages in Google Analytics. You can organize your landing pages from the most popular to the least popular by unique users. Review time-on-page, bounce rate, and other statistics for each landing page. You can then come up with a plan on how to improve the performance of landing pages that often fail to convert.

For returning visitors, you should be wondering why they returned. Did they convert the first time they visited? If not, what can you do better to ensure they convert upon returning?

Regardless of if a visitor is new or returning, you must work to make your website as usable, useful, and valuable as possible to improve website conversion metrics.

Something worth remembering: A lot of CEOs will tell marketing, "More traffic! More traffic!" but improving your conversion rate (conversion rate optimization or CRO) is something you can directly control that maximizes the value of your existing traffic.
1000 unique visitors X 2% conversion rate = 20 leads

2000 unique visitors X 1% conversion rate = 20 Leads
Both these situations have the same impact, try to determine the time to achieve factor. Always work on high impact, quick growth projects.


5. Pages Per Visit & Events

Even though conversions are the main goal, there's still plenty of value in analyzing behavior that doesn't result in a new customer. Figure out what your visitors are doing, how you can get them to interact with your website more, and how you can funnel them toward converting.

Two website metrics to consider here are pages per visit and events. If your visitors often visit multiple pages, spend several minutes on each page, and interact with your website in other ways, that's still a great sign even if they don't immediately convert.

Understanding where your visitors tend to click or how they're using your website can help you dream up ways to increase the number of pages per visit, which should help with conversions.

Pages per visit is easy to see directly in Google Analytics, but events may take some time to set up. Luckily, there's a video from Google Analytics that will show you exactly what you need to do to get events set up.


Alternatively, tools like
Crazy Egg
or
Hot Jar
create heat maps for your website that show how visitors interact with it. There's even a
Google Chrome extension from Google Analytics
called Page Analytics
that will create this heat map for free.


How to Use This Data
No matter what type of business you run or how you use your website, conversion metrics are essential to achieving your goals. If your traffic just isn't converting, you're probably not focusing on the right numbers or maybe not focusing on numbers at all.
To get started on improving your traffic, start tracking these five website conversion metrics. While you may be able to find some industry standards to compare your website to, the best thing to do is set benchmarks for yourself.
If you need some assistance figuring out how to locate and track these conversion metrics in Google Analytics, here's some help:
Unique Visitors:

Open Google Analytics --> Click on Audience --> Choose Overview --> Users can be found here

Bounce Rate:

Open Google Analytics --> Click on Behavior --> Choose Site Content --> Select All Pages --> Bounce Rate can be seen alongside several other metrics

Session Duration:

Open Google Analytics --> Click on Audience --> Choose Overview --> Avg. Session Duration can be found here

Conversion Rates:

Make sure you are leveraging Google Analytics Goals

for tracking

form submissions and other website objectives

.

Pages Per Visit: Open Google Analytics --> Click on Audience --> Choose Overview --> Pages / Session can be found here
If you consistently pay attention to these metrics and use them to make improvements to your website, you should begin to see an improvement in conversions.