The days of small local businesses being the underdog are over. While local businesses will never be able to replicate the ad dollars spent as a national chain or company, Google has helped provide ways for these companies to punch back.
The introduction of Google My Business is a way for businesses to gain free exposure with internet search visibility.
Think about a time you were out and about in a part of town you may not be familiar with or a city you do not live in. Whether you were out shopping, sightseeing, or heading into the big city for the day, the unfamiliarity was not an issue. That is because you could reliably pull out your smartphone, search whatever the service is that you are looking for, and Google My Business helped provide you with information on businesses closest to your location.
This customer experience has likely happened to you at least once and will happen to a potential customer of yours every day. Over 87% of smartphone users make at least one search every day. Of those, 50% of them visited the local store that they searched for that day.
What is Google My Business?
"Google My Business is a free tool that allows you to promote your Business Profile and business website on Google Search and Maps. With your Google My Business account, you can see and connect with your customers, post updates to your Business Profile, and see how customers are interacting with your business on Google."
Setting up a Google My Business account is simple, and all it takes on your end is filling out information about your business that you would like to be presented. Take a look at an example of a completed Google My Business Profile below.
This will display on the search page of your local business. This profile page is a one-stop shop for all relevant information that occurs around your business.
Increased Search Visibility
When you search for a business, one of the first things you will see is a map showing the company location. When a customer has their location services turned on when they are browsing, they can see how close they are and find directions to your business with the click of a mouse.
71% of consumers say that they will look up the location of the business online before going for the first time. Even if they do not use Google to find your business, Google helps assure their anxiety about their first experience. On top of that, 68% of consumers say that when they search for a local business, they will click the "get directions" button. Adding your address can help finalize a plethora of potential sales.
However, you do see the "suggest an edit" feature. While you can go on to describe your business, keeping the information up to date, and precise is crucial as it increases customer loyalty and engagement.
Local 3-pack
Adding your address also adds you to the "local 3-pack," which is what helps your business naturally show up on the first page of Google search rankings.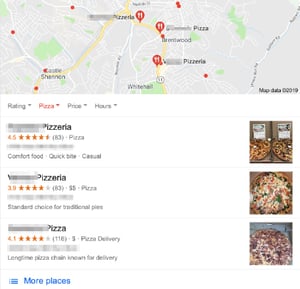 Let's say that you are traveling for business and decide to spend the day sightseeing. Now that you have worked up an appetite, you want to find the closest pizza place. If someone searches "pizza near me," the local 3-pack will immediately show up with each Google My Business profile.
Whether it be restaurants, services, hotels, or more; customers are going to search for a possible service near them. With a fully optimized Google My Business Profile, you have the chance to promote your services and features.
Images create a strong first impression
Notice in our initial example that the profile had three images. One was the maps, while two were of the product and the store. Adding a sharp image to your Google My Business account will create active customer feedback and reviews. Businesses will be able to control the photos displayed to increase their visibility.
According to Google, businesses with photos receive 42% more requests for driving directions to their location, and 35% more clicks through to their websites than businesses that don't have images.
This makes sense. Consumers are searching on Google because they want to find somewhere close by that they do not know about. An inviting business will have photos that inform and engage the customer where no photos will leave them questioning, or having to do more work to decide if they actually want to invest in your business.
Many people will move onto the next business that has a photo. A lost sale can be as simple as that.
While adding a photo will keep you in consideration, the images still need to continue to sell the product or service to the customer. Five different types of photos can be added to your business page that will give you an advantage over other local business. Those are exterior photos, interior photos, product photos, photos at work, and team photos.
Exterior Photos
Up to three photos of the outside of your business from various angles and times of day should be added to give a customer a full experience, and an idea of what to look for when heading to the location for the first time.
Interior Photos
Give the customer an idea of the ambiance and show them what they would expect when they walk into the door for the first time. Use up to three photos to show off the size and atmosphere of your business.
Product Photos
Showcase your three most popular items, or highlight the various uses of a particular product with product photos. This can also be a great way to promote product ratings.
Photos At Work
Nothing beats seeing the product in action or seeing the business that you are potentially investing in working hard to provide your service. These photos can highlight specialty services and help increase the number of reviews at your business.
Team Photos
Team photos can create a personal experience for a potential consumer. This is a chance to humanize your business and show off the local personality that sets your business apart.
Videos
Lastly, you can add videos. Videos must be:
30 seconds or shorter
100 MB or smaller
720p resolution or higher
These can feature services, products, or the team to establish a lasting impact. All can create a much more vivid description of your business.
We are in an instant click and swipe left culture. Creating a strong first impression means creating a business. Taking the time into selecting the right photos for your Google My Business account can go a long way.
Useful Information Enhances Consumer Experience
While the top images will give customers a visual look and physical location of your business, the rest of the Google profile is designed to enhance the customer experience with information that will be valued before making a purchasing decision.
All of these features can be displayed on your Google My Business profile:
Hours of operation
Busy Periods
Phone numbers with a call now feature
Description of your business
A recent study showed that 76% of local searches led to a phone call. Having all of this information first hand will keep customers locked onto your business, calling, and finding directions all in one location.
Customer Reviews are Important For Your Business
We all remember one time in high school when you told your friend a secret only to find out the rest of the school got word of the juicy rumor within two class periods. That was a small representation of how word of mouth can spread quickly.
Now, with the wide world of the internet and everyone having a voice to chime in, imagine how quickly word can travel. While this can sound scary, it also can be a tremendous asset for your business. With positive buzz and word spreading fast, word of mouth is an underrated marketing aspect to exploit.
With Google leading the way, customer reviews do not only spread fast, but they are also accurate, timely and in the right location.
This is likely why Google customer reviews, product ratings, and seller ratings are becoming a driving force for growing your business. Customers are more eager to rate their experience, and consumers are trusting of past shopping experiences from their peers while Google is a trustworthy source for all of the information.
For too many businesses this is an untapped revenue stream that can easily be taken advantage of. What are Google Customer reviews, how can your business take advantage of seller ratings, and how can product reviews lead to more purchases on your site?
What are Google Customer Reviews?
Formerly known as Google Trusted Stores, Google Customer Reviews branches off of their own rating service to add in more qualified reviews from the actual consumers of the products.
Google noted the change was to "better focus our support on getting you quality reviews and seller ratings, the two major keys to driving more traffic to your site."
They are less worried about rating the stores themselves, and instead, are giving you the most information possible from past customers who have been through the entire shopping experience.
The introduction of Google Customer Reviews gives customers who have made online purchases the option to receive an email that requests feedback to rate their shopping experience. Once their order arrival has been confirmed, the customer will be asked to submit a one question survey on a numerical scale, waiting until after the product has arrived to ensure that each survey is up to date with the most useful information.
Google will take the collected number of reviews, and create a seller rating, that can be displayed as an optional Google Customer Reviews badge on your site. The seller rating badge will also be displayed in Search Ads. The badge displays a 1-5 star rating and easily stands out to identify your site with the Google Brand. A minimum of 100 reviews is required to establish a seller rating.
How can your business get Google Customer Reviews?
The Google Customer Reviews Badge is essentially a sealed approval that tells other shoppers that you have been verified, and other consumers have been satisfied with their experience and recommend your business. This is an easy way to establish brand recognition and create positive word of mouth, and all you have to do is run your business.
Of course, you do need to set up a Customer Reviews account. From there, the work is on the word of mouth of your consumers. Setting up a Customer Reviews account can be easily done by heading to your Google Merchant Center.
If you do not have a Google Merchant Center account, it is an easy process to sign up. The Google Merchant Center stores all of your business and product information so that it can be publicly available for customers online. Google Customer reviews are integrated with the Merchant Center as an option that will be activated and displayed in searches and on your site once turned on.
What are the benefits of customer reviews?
Having the Google Customer Reviews badge with your seller rating is a great way to show potential customers that you have a brand that is recognized and reviewed by peers. Almost 90% of online shoppers admit that they trust online reviews more than personal recommendations. The credibility of your business is leading to positive word of mouth that we know can naturally spread like wildfire.
The ease of having to answer one question to submit the survey along with the visibility of an easy-to-read 1-5 rating creates a strong sample of feedback that creates an impact in the buyer's mind.
Having a positive review on your webpage, or in search ads can show immediate effects.
Having a seller rating on text ads can boost your click through by up to 10%
Websites that display reviews are 270% more likely to receive an online purchase than a business that does not display reviews
57% of consumers will not go to a business if they have less than four stars. Last year the number was 48%
The visibility and trust that comes from displaying customer reviews is undoubted.
SEO Benefits
Google wants businesses that have strong Google Customer Reviews to show up first in their search engine. They are looking to get the most trusted stores in front of you. This can be extremely valuable for small businesses to see their name not only show up in the local pack, but at the top of SERPs. Providing a number of strong positive reviews can help increase your SEO ranking, and create more organic visibility. Better seller rating extensions can also boost PPC campaigns.
Strong customer feedback can also be promoted on the website. Lastly, by using Google Merchant Center, you can collect valuable information about the consumers who filled out the survey to understand which process worked, and which failed.
How to deal with Bad Customer Reviews
Of course, it is one thing if the good reviews come pouring in. The other end is that customers are naturally prone to say less when satisfied and speak out more when disappointed. Bad reviews are going to come in at some point.
At the end of the day, bad reviews still have to be looked at as better than no reviews. By being able to receive this feedback, your business has the ability to understand why their reviews are lower, and what they need to do to improve their customer satisfaction moving forward.
It also can create a positive experience with unsatisfied customers. By reaching out to customer reviews in comments, or publicly, you can admit that your business made a mistake and that you are willing to go above and beyond to satisfy individual customers. The genuine response can create a personal customer experience, and the visibility creates a lasting impact and signs of growth as a business.
Why Google Customer Reviews are right for your business
According to a study on local businesses, the number of consumers who use the internet to find a business more than doubled in the past year from 12% to 27%. Of those people, 50% will visit a local business if they see that it had a positive online review and 13% will reach out and contact that business.
Google Customer Reviews are right for any business. These badges help identify and pin down the top products and businesses which creates stronger brand recognition. With heightened word of mouth, SEO benefits, and even a way to spin the negative reviews into positives, there is nothing holding you back from taking your business to the next level and adding customer reviews to your site or search.