Overview
R.J. Hedges & Associates is a Pennsylvania-based healthcare compliance consultancy centered around pharmaceutical providers. They provide federal level healthcare compliance programs to ensure their clients are operating safely and ethically. The company recently expanded operations to include brokerage.
Problem:
R.J. Hedges' bread and butter has always been helping independent pharmacies stay in compliance with pharmaceutical rules and regulations. To further assist clients, R.J. Hedges decided to expand their service offerings with a branch dedicated to brokerage. This brokerage branch has helped clients buy, sell, expand, and even plan for retirement.

However, this service development also presented the challenge of generating awareness within their existing market segment. Additionally, they needed to create resources to help properly educate interested clients and new leads.
PIC Services:
PIC's longstanding relationship with R.J. Hedges allowed the inbound marketing team to hit the ground running with this project. In conjunction with the client, PIC developed and rolled out a comprehensive marketing campaign designed to generate awareness and help educate pharmacy owners in need of brokerage services.
The heart of this campaign was PIC's Hero Mission Strategy. Instead of creating content that highlighted the many features and benefits of R.J. Hedges' new brokerage service, this strategy attempts to identify and solve the problems pharmacy owners face when buying, selling, or expanding their business.
This strategy not only zeroes in on the client's ideal customer, but also ensures you're thinking with that ideal customer's brain.
The Hero Mission Strategy was set in motion via workshops with R.J. Hedges, and the resulting information was used to inform the other services PIC provided, such as SEO, content writing, and social media marketing.
Solutions:
The PIC design and development team added a brokerage page to the R.J. Hedges website to serve as a central hub for the rest of this inbound campaign to point to. The bulk of the campaign consisted of generating content in accordance with the Hero Mission Strategy. Here's a brief overview of this strategy:
The Hero:

The client's ideal customer

The Mission:

What your Hero is trying to accomplish

The Story:

A content strategy that eliminates friction and accounts for the Hero's needs as they work to complete their Mission
In this case, the Hero is a pharmacy owner who needs brokerage services, and the Mission is buying or selling their pharmacy. PIC worked closely with R.J. Hedges to create content that helps pharmacy owners accomplish their mission - regardless of whether they're ready to make a move, or just beginning to explore the idea.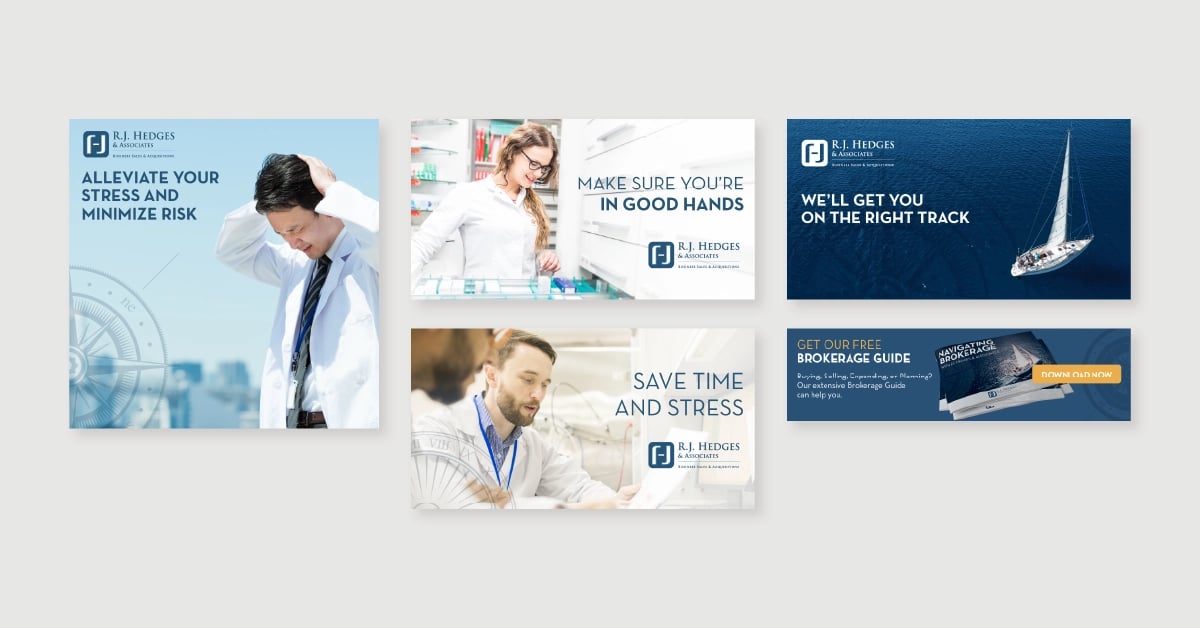 Results:
This campaign has proved to be a success for R.J. Hedges. The first year this strategy was implemented, it generated 5 first touch brokerage leads. In 2020, that number jumped to 26 first touch brokerage leads, a 420% increase! R.J. Hedges was extremely satisfied with this campaign, and its success allowed them to hire additional staff to help run the new department.