Overview
STARR Life Sciences manufactures animal research products for laboratory animals. They hold the world's first and only patented noninvasive vital signs monitor specifically designed for mice, rats, and other small laboratory animals.
Problem:
Stagnant Website, Poor Lead Generation
STARR Life Sciences' website had not been updated for a few years, and this stagnation resulted in decreased organic traffic and lead generation. The client hired Pittsburgh Internet Consulting to give their website a new look and feel in hopes of attracting more visitors and customers.
However, the initial website redesign did not achieve the desired results. Though the redesigned website solved many of the content issues users were experiencing when trying to learn about the client's product line, these changes did not boost organic traffic nor the conversion rate.
PIC Services:
Fix Organic Traffic and Conversion Rate Issues
As a proponent of growth-driven design, PIC went to work analyzing the updated website's traffic and CTAs. Specifically, the PIC team focused on the page for STARR's flagship product, the MouseOX Plus, to determine what could be changed to help with organic rankings, traffic, and conversions.
The result was a collaboration between PIC's SEO expert and its design and development team.
Solutions:
Improve Product Pages and CTA Placement
First, PIC worked to address the content. Sections were added to briefly discuss product features and accessories with links to their respective pages. These changes added content needed for SEO purposes and also fulfilled the user's desire to learn more about the client's products all on one page.
In order to address the conversion rate issue, PIC considered the client's existing CTAs. Up until that point, STARR's website only had a basic contact form and a phone number, and neither was tracked in Google Analytics.
A new CTA was necessary, so the team created attractive graphics for a free recorded demo of the client's most popular product. Additionally, we added a form where interested parties could request a quote. The demo CTA helped identify leads that needed to be nurtured, while the quote request CTA identified leads who were closer to making a purchase.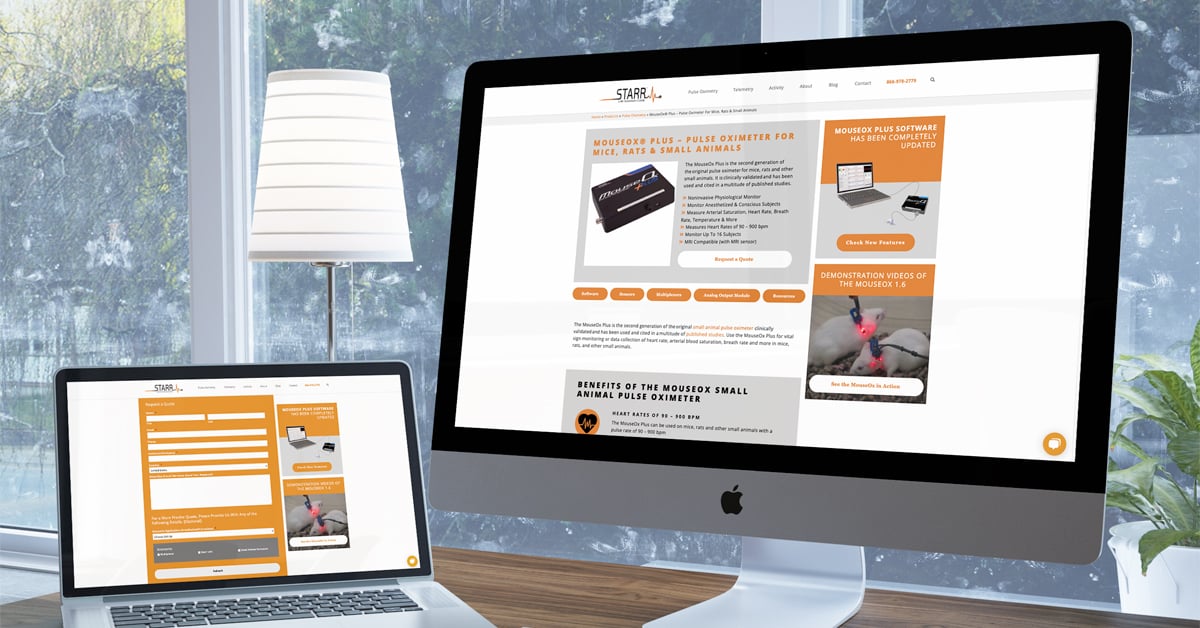 Results:
Excellent Lead Generation
These changes resulted in improved organic traffic to the MouseOx Plus page, which is the center of traffic for the overall website. Additionally, updating the CTAs and tracking them in Google Analytics led to a 279% increase in website leads for the client.