You take weeks or months to complete the perfect blog post or webpage. You have made infographics and charts, you have found images to tell your story. You have ensured that you have all the SEO tags and links in place. You love it, it looks great, you publish it! You are so proud of it that you share it on your social media, you text it to your friends and family and send it to your customers and colleagues. And those posts and shares look BLAH and you find that others do not share your excitement and read the article (except maybe your mom, she will be proud of your work no matter what). What went wrong?
Featured images should not be overlooked.
The featured image is the visual representation of your content. You will find this, not just on your blog page but any place where link previews are provided and tells viewers what the article is about.
90% of the information processed by the brain is visual and it only takes 13 milliseconds for the human brain to process an image which is 60,000 times faster than text. With those statistics, it is no wonder that social media posts that include images produce 650% higher engagement than text-only posts.
Featured images are the most important part of how your page or article is presented to potential readers when shared. While most featured images are commonly known to be seen in social media posts like these: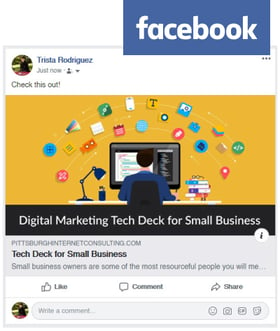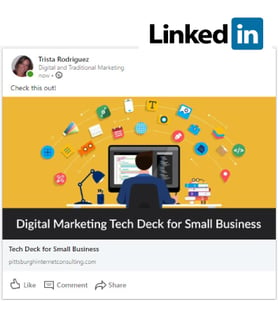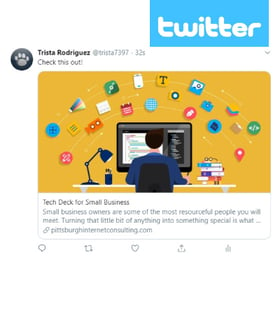 Link previews and featured images can pop up anywhere a link preview is shared such as text messages, instant messages such as Slack and Facebook Messenger, news or content aggregators, and even Gmail provides link previews with images in email.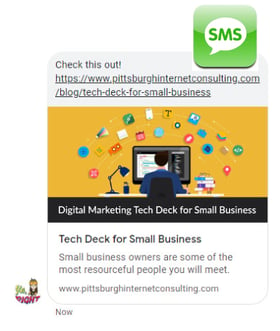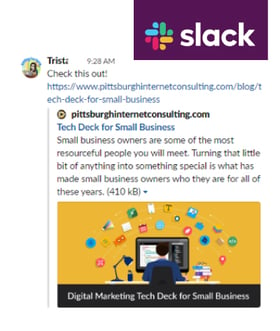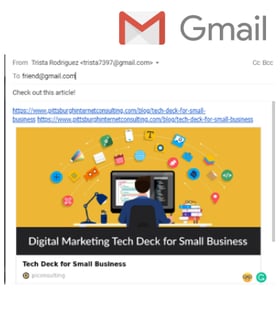 This image is the first impression someone gets about your article, quality, content, and value.
Does your image make a good first impression? Does it make a reader want to click to reach more?
"But I always add a different image when I share my content on social media"
It is great to customize your posts when sharing your content if you can. Some social media platforms allow you to customize the link preview image shared with content from your own verified site, but what if someone else wants to share it? That is a valuable share, especially if that person is an influencer in your industry. You want to let that share make the best first impression with a quality, effective featured image.
There are several ways overlooking your featured image setting can go wrong.
Five Common Featured Image Mistakes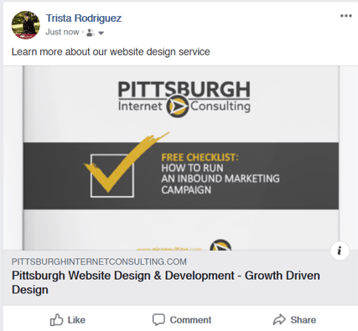 1. The image is not relevant.
If the featured image does not match the content, then it is not going to get the right people to the page. If you let the platform "just get one from the page" it might not pick a relevant image. Below is an example where it pulled the CTA from our page. While this CTA for inbound marketing services makes sense when reading the article, it doesn't represent what the page is about which is our website design services.
2.The featured image is too small.
We have learned that images are powerful and the best way to get someone's attention so there are two problems with using small images. First, they can look blurry and non-professional. You do not want the reason someone notices your post or share to be bad image quality. The second reason is that social media platforms will adjust and rearrange your link post. This will prevent your image from being blurry, but it will be small and cropped which causes it to be less effective.
3. The image is the wrong shape.
Images will be cropped to fit the space the sharing platform allows. You should use dimensions that work best. This example shows two problems! We let it automatically choose an image and it chose our logo which doesn't represent the article content, but even worse, the logo is the wrong dimension, so it only shows an awkward portion.
4. The image does not tell the story.
You have selected an image, make sure it was the right size and dimensions. It is even relevant to the topic, but does it tell someone is milliseconds why they should click and read on? This is a harder mistake to correct. Imagine your post or share with no text. Will someone quickly be able to understand the topic and value of your post?
What do you think this post is about when you see it without text? How about with text?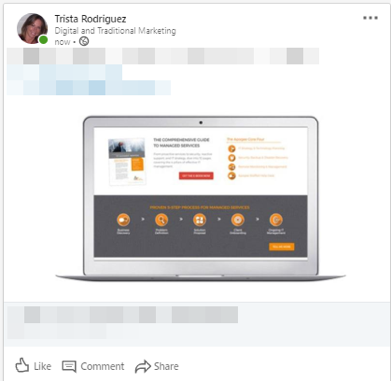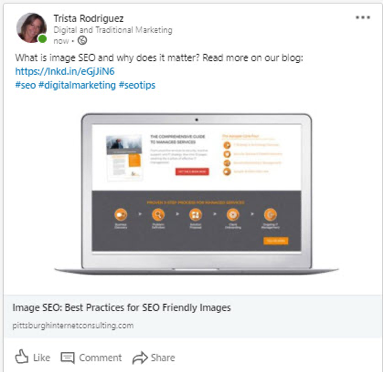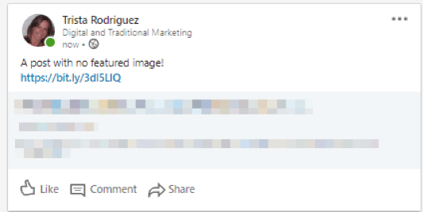 5. No featured image at all.
If you go this route, just be sure you have some attention-grabbing text.
Tips for choosing a featured image
Think of your featured image as an ad for your article or page.
Choose a (nearly) universal size. This is tough. Every platform is different. Most social media and sharing platforms that support link previews including LinkedIn, Facebook, and Twitter display images at 16:9 or 1200x628. This is a size that will fit most situations.
Let your image speak to a pain point or solution your article addresses.
Use bold colors or striking images to attract (the right kind) of attention.
Be original. Use your own images or artwork when possible. If you use stock images, choose pictures that are unique and do not feel like they are stock images. Customize them by adding your own text, logo, or style. Also be sure you are using images legally. Subscribe to a stock photo service or check out sites like com and with images in the public domain and CC0 licenses.
Include text statements or headlines in the image if needed to support the image.
Include your logo. Give your brand credit for your work.
Follow image SEO best practices.
Test and adapt. Do not just post it and forget it. If you are not getting the engagement and traffic you want from shared link previews, consider your image and other sharing data and how it might be improved.
"But the featured image that is good for sharing doesn't look good on the page!"
Not to worry, your featured image does not have to show on the article page! WordPress, HubSpot and many other CMS platforms have built in options, tools and plugins available to remove the featured image from your actual blog page allowing you to use a different image on your site than is featured for sharing.
Choosing your featured images carefully will help your website or blog look professional, build brand awareness across multiple platforms and increase results from your marketing programs. Now your mom will have even more to be proud of.