Publishing content continues to be one of the most popular and effective forms of lead generation in digital marketing today. Though many companies have adjusted their digital marketing plans to include content development, a lot of companies in the industrial and B2B industries are still struggling to generate leads from the content they are producing.
How do you create content that is both valuable and effective? Even more importantly – how do you get this content to the first page of Google search so your audience can find it?
There's more to great content development and marketing than an entertaining blog post or a witty social media post. These four copywriting tips will help you generate marketing qualified leads and turn those leads into customers.
SEO Copywriting is still important
Just because digital marketing is going the Inbound route doesn't mean that we can throw traditional SEO practices in the trash. Your content could be great – valuable, entertaining, informative – but if no one can find it, it won't do anything for you or your business.
There are three important traditional SEO copywriting practices you need to make sure are included in your content so that it is fully optimized.
Keyword(s)
Title Tag
Meta Description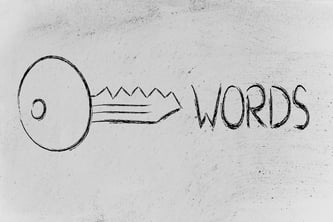 While things like link building can help improve your search engine ranking, optimizing your title tag around a keyword with an adequate search volume is key to getting your content seen by your target audience. While not directly related to SEO, a well-crafted meta description can increase your click through rate.
Determining the perfect keyword is maybe the most time consuming optimization step in the content development process. Dig into your Analytics and find a keyword that your target audience is consistently using to find your website, social media, and blog.
A quick and easy way to do this is to go into your Google Analytics and, under Search Queries, look for the who, what, where, when, why, and how search terms. This covers the basics of what your target audience is searching for and helps frame the topic of the content you are producing.
For example, if you are a packaging design company and you're developing content for your blog, you may find the following search queries in your analytics:
What color packaging is purchased the most by consumers?
Who designs product packaging?
Why is product packaging so important?
From these search queries, you know that there is a high demand for information on product packaging. Since you want to address as many of these search queries as possible, your blog post may be titled, "Product Packaging Design and Why It Matters."
If you're having trouble deciding which keyword to use and how to use it, take a look at what your competitors are using. By inserting your competitors' URL into Google Adwords Keyword Planner, you can see what terms they are targeting in their content. Compare your potential keywords with the keywords your competitor is targeting to create content that will challenge your competitors' search engine rankings.
Create a balance between promotional content and informative content
If you're developing an Inbound marketing content strategy, you should be familiar with the 80/20 rule. When developing content for your website, 80% should be shared or informative content and only 20% should be promotional or heavily marketing your business and service.
This rule isn't for everyone. Certain industries – retail fashion and real estate, for example – may publish more content that markets their products than, say, a tech company.
For products that are highly visual or an industry whose customers are more interested in the product or service than information about the industry, flip-flopping the 80/20 rule may be ideal. For instance, if you are planning a blog schedule that includes three posts per week, two of those posts each week should be focused on a product or service.
Pay attention to your audience and your industry. They will dictate what type of content and how much of that content they want to see.
An enticing call-to-action
In order to have a fully optimized blog post, you need a call-to-action. It's ideal to have a call-to-action in every blog post, but that doesn't necessarily mean that you need a unique CTA in each piece of content.
Your CTA's should include an action verb that encourages the reader to "do something." Depending on the action you want your audience to complete, these words can include:
Download This
Learn More
Click Here
Start
Build
Join
Sign-Up
Depending on what product or service you are promoting, your CTA's can even include negative verbs that encourage your audience to download, buy, or sign-up for your offer. For example:
"Are you sick of wasting your marketing budget?"
"Tired of high interest rates?"
"Worried about reaching your quarterly goals?"
If your CTA doesn't seem to be performing well, and you've determined that it is not due to the offer you are promoting, or the verbiage of your CTA, it may be the positioning of the button. The idea is to place your CTA "above the fold," meaning that the CTA should appear mid-way through your piece of content, or should be seen by the user without scrolling down on their monitor.
A responsive website design
In 2015, mobile devices topped desktop computers in overall website traffic for the first time in history. With about 53% of traffic coming from mobile devices, that percentage is expected to increase to about 63% in 2017.
Your audience is visiting your store, engaging with your social media, and reading your content from their smartphones and tablets, and they are doing it at an increasing rate. For that reason, it's never been more important that your website and your content be able to be accessed and easily consumed on a smaller screen.
With a responsive website design, your content is guaranteed to be able to be accessed no matter the device. Consumers want information "on-the-go." If your content can't be accessed easily on mobile devices, those visitors will turn elsewhere for the same information and you will lose that traffic to your website or blog.