Last week, social media single-handedly launched a small British fashion company, Roman Originals, into international spotlight. CNN Money reported a 347% sales increase for the company after #TheDress became a trending topic on major social media platforms.
Like the rest of the world, we're intrigued by the colors of the dress. But as marketers, #TheDress and its path to stardom fascinates us even more and garners a case study of its own.

So, just how did this seemingly inconspicuous post become the talk of the day?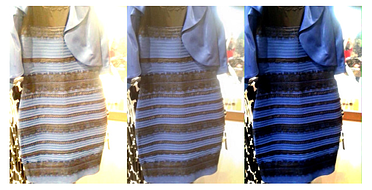 The Dress
Simple & Engaging
We all wanted to weigh in on the dress even if we had no interest in buying it. "Is it blue and black or white and gold?" That's all it took to engage users around the world, and that engagement is something social media marketers dream about.
But think about it… a simple photograph challenged everyone's perception of color for a few hours, and asked for your input. And that's what users want; topics that they can have a say in. It doesn't have to be insanely complex (or even promotional), just something that users feel apart of. The more users feel apart of something, the more engagement posts receive.
Even the guys in our office stood around a computer and debated about the colors...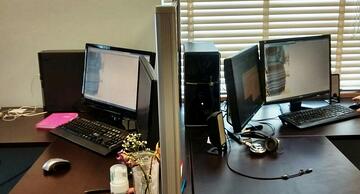 PIC's attempt at solving #TheDress mystery
Story Telling
Unbeknownst to the Tumblr user named Swiked, she created a perfect backdrop story to spark the interest for the conversation. Her story about a disagreement with friends gave people a reason to act and respond to her request.
Momentum
What happens next is a social media marketing dream come true as this simple post with a tiny backstory spread across every platform. Engagement ran wild as people began to ask the same question to their network of friends and families. BuzzFeed wrote an article on it that broke the record of how many times an article is shared. Celebrities joined the conversation, and brands perpetuated the hype.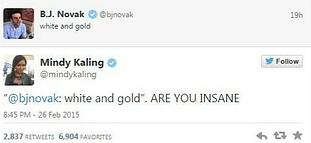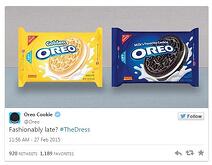 Opportunity
Social media never sleeps. Once the buzz for a brand is created, it's the perfect moment to capitalize on the momentum. Within one night, Roman Originals redesigned its homepage to continue the conversation. The company fashion director, Michelle Bastock, gave the official statement on the dress color, reassured consumers on the dress availability, and confirmed that their site can handle the increased traffic. As a closing note, Bastock stated that Roman Originals plans to offer the White and Gold version in as little as the next six months.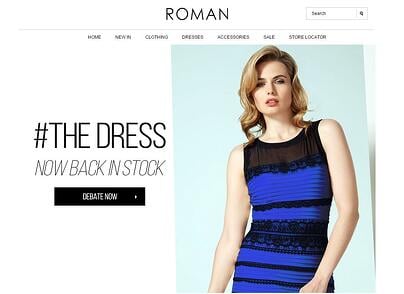 Roman Originals New Homepage
Social media is a powerful tool in business and #TheDress demonstrates how social media marketing can drive conversation and sales. Modern businesses cannot afford to view social media as an option. After all, #TheDress brought fame and fortune to this small British fashion company overnight.
So ask yourself, is your social media strategy engaging enough? Contact us for a free consultation on your current strategy at 412-942-0222 or fill out our contact form, and we'll give you a call!